27 September 2022
A warm welcome to Simie Simpson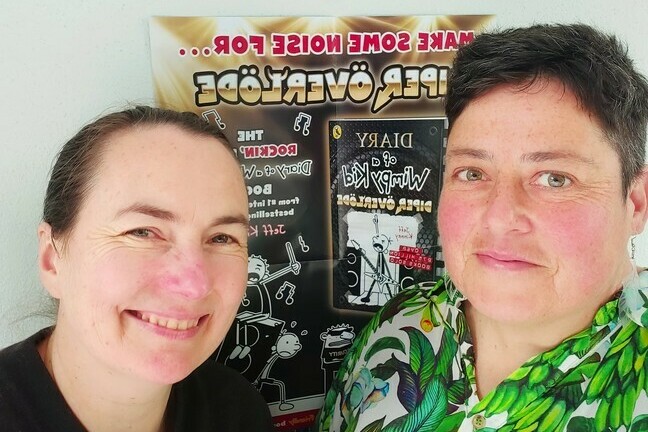 We have a new Programmes Manager here at Read NZ Te Pou Muramura! Haere mai, a warm welcome to Simie Simpson.
Our dear Kathryn Carmody will be finishing up in the coming months and we are delighted to welcome Simie to our team.
The pair, who are good friends, chatted to RNZ's Lynn Freeman about the role on Standing Room Only this week.
Simie has over 20 years experience in the Aotearoa book trade, from bookseller at Unity Books Wellington, to sales rep and then sales manager at Walker Books. She's worked as a librarian, reviewer, NZ Children's Book Awards and Booksellers Industry Award judge in 2019, editor for The Sapling, and board member, comms coordinator and the current Chair of the same same but different board (ssbd).
Simie loves to connect people with books.
"Putting a book in someone's hand or turning them onto an author is something I find huge joy in and sits at the core of my work to date. Bookselling, sales repping, working in libraries and helping to organise festivals are all work that ultimately connects people to books," she says.
"Kids are the best people to get excited about books cos they aren't just our future readers, but they are our future writers, storytellers, songwriters, journalists etc. And maybe it is a tiny bit selfish as well, because when I am an old woman with time on my hands, I want to be sure there's going to be some great books to read."
Kathryn celebrated six years with Read NZ this year. She has been the face and voice of Writers in Schools and we owe her a debt of gratitude for her care, attention and support of the authors who participate in this programme, to the schools and teachers with whom Kathryn has worked and most especially for her single-minded determination to make things happen.
During Kathryn's tenure the number of visits to schools each year has increased and pre-Covid, Read NZ reached almost 60,000 children through Writers in Schools.
"It has been a real privilege doing this work," she says.
"I am in awe of what our authors and schools can achieve together."
Read more about Simie and Kathryn (and the rest of our team) here.
A date to celebrate Kathryn's contribution to the work of Read NZ will follow but from today, please contact simie@read-nz.org for all enquiries relating to Writers in Schools, Writers in Communities and our School Library programmes.