16 November 2022
The heart of the matter: our 2022 Pānui in pictures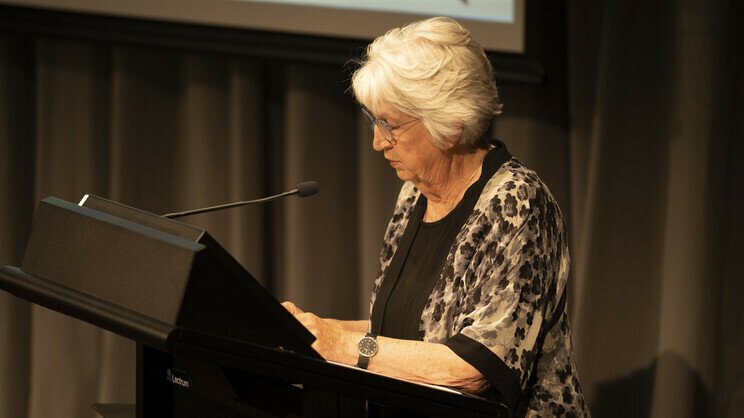 "Sixty years ago, I made a conscious decision to become a writer. It's hardly any coincidence that, for much of my life, I became caught up in an organisation that celebrates reading."
So begins the 2022 Read NZ Te Pou Muramura Pānui, The heart of the matter, by Dame Fiona Kidman. Held last week at the National Library's Taiwhanga Kauhau Auditorium, the author gave her address to a full house that included her friends and whānau as well as past staff members of Read NZ Te Pou Muramura and then New Zealand Book Council.
Thank you to everyone who made the evening so special, but especially to Dame Fiona, founding secretary of our organisation and the perfect author to deliver the Pānui in our 50th year.
Our grateful thanks also go to Luke Pierson, whose kind financial support makes this annual event possible, and to Creative NZ for their ongoing support of our mahi.
Download the free ebook
Read it on The Spinoff
Listen to it as a podcast on RNZ
RNZ will also broadcast The heart of the matter live on November 20 at 7pm.
Comic artist Tara Black was there on the night, capturing little gems with her pen and paper:
National Librarian Rachel Esson
Read NZ Te Pou Muramura board chair Willow Sainsbury
Read NZ Te Pou Muramura CEO Juliet Blyth
Read NZ Te Pou Muramura staff (from left): Simie Simpson, Dame Fiona Kidman, CE Juliet Blyth, Melissa Wastney and Rachael Hearne